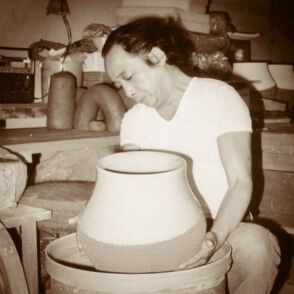 1932–1983
Born in Kyoto, 1932 Kyoto as the eldest son of Yuzo. Graduating from the current Kyoto City University of Arts, he studied under Tomimoto Kenkichi and Kondo Yuzo. He served as a Professor at the Kyoto City University of the Arts. He was awarded the Shinshokai Exhibition Tomimoto prize, and won prizes from the Japan Ceramic Society and Japan Kogei Association.
He travelled widely, and took part in teaching programmes at
Indiana State University (1962) USA, in New Zealand, was invited by Elizabeth II Art Academy (1979) to provide Ceramic Art Guidance. He also participated in the New Guinea Open Art Survey (1969), Afghanistan Traditional Crafts Survey (1977), and also researched Korean Craft in the late 1970s.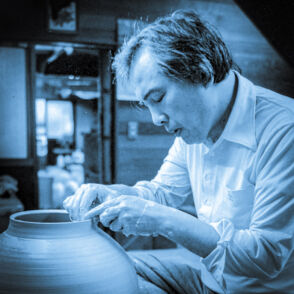 1936–2012
Born in Kyoto, 1932 as the second son of Yuzo. He was awarded the Kyoto Shimbun prize and the Tomimoto prize at the Shinshokai Exhibition in Kyoto, and the Kyoto Shimbun Grand Prize in the field of arts and sciences. He participated in numerous exhibitions both in Japan and abroad. His exhibitions include "Twentieth Century Japanese Blue & White: Three Generations of Ceramic Achievement by the Kondo Family" at the Fitzwilliam Museum (Cambridge, UK, 1993), "Japanese Modern Blue & White Pottery: Yuzo, Hiroshi, Takahiro" (The Asahi Shimbun Company, Japan), and "Chinese Blue & White and Japanese Kondo Sometsuke" at The Palace Museum in the Forbidden City (Beijing, China, 2000). His works are represented in the public collections of The British Museum, The Museum of Kyoto, Kyoto Municipal Museum of Art, and The Ministry of Foreign Affairs of Japan. He passed away on May 31, 2012.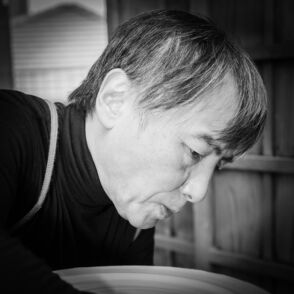 1958–
Kondo Takahiro's online catalogue of works http://www.kondo-kyoto.com/
Born in Kyoto, 1958 as the eldest son of Hiroshi. Having started his artistic career relatively late when he was in his twenties, he was appointed as an overseas artist for the Agency for Cultural Affairs in 2002 and graduated from Edinburgh College of Art with a Master's Degree in Design in 2003, also winning the Inglis Allen Masters of Design Award at the same time. Earlier recognition includes receiving the Kyoto City Emerging Artist Award in 1994. His works are are represented in the public collections of The Metropolitan Museum of Art (NY, USA), The National Museums of Scotland (Edinburgh, UK), Guimet Museum (Paris, France) and many others.