A Life of Cobalt Blue—The World of Kondo Yuzo
Blue and white porcelain, called sometsuke in Japanese, is made by decorating white porcelain with cobalt blue pigment made from cobalt oxide, applying translucent glaze to the ceramic body, and firing it at high temperature. After being perfected in Jingdezhen in the northeastern province of Jiangxi, China, early in the 14th century, this technique spread over many regions, such as Europe, the Middle East, and the Korean Peninsula.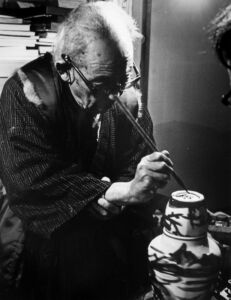 Blue and white ceramics were first imported into Japan in the Arita region of Kyushu at the end of 16th century, and then became widely accepted in the everyday life of Japanese people. Here in Kyoto, ceramic production started in full swing in the latter half of the 18th century.
However, since most of the products were modelled after the traditional style and examples of China, they were no more than reproductions of Chinese porcelain, such as Kosometsuke and Shonzui. No innovative attempts were made for many years.
It was Kondo Yuzo who broke with conventional methods and transformed blue and white porcelain into a novel art form. Praised for his achievement, he was designated as a Living National Treasure in the field of blue and white ceramics.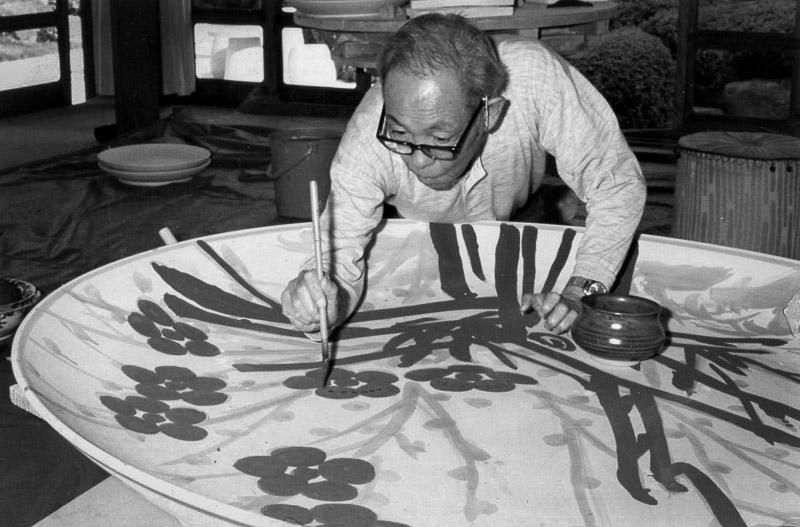 Born at the foot of Kiyomizu Temple, Kyoto City in 1902. Yuzo started learning ceramics as a young man. When he was fifteen, he completed a course in the pottery wheel at the training facility at the Kyoto Ceramics Laboratory.
He further developed his skills while working as an assistant to Tomomoto Kenkichi.
In 1965, he was appointed as Head of the Kyoto City University of the Arts.
He went on to be awarded the Purple Ribbon and Dark Blue Ribbon medals, and the Third Order of Merit with the Order of the Sacred Treasure.
He was also recognized as having greatly contributed to the preservation of culture, arts and crafts in Kyoto.
In 1977, he was appointed as a Living National Treasure in the field of blue and white ceramics.
He passed away on February 25, 1985.
Yuzo, Yutaka, Hiroshi & Takahiro
Three Generations of Ceramics
Kondo Yuzo (1902–85) was born in Kyoto in 1902, at the foot of the main gate of the Kiyomizu Temple.
In 1924, he established his atelier at his birthplace and began his career as a ceramicist. While refining the traditional blue and white pottery technique called sometsuke, he elevated the technique to the level of high art, and in 1977, he was appointed as a Living National Treasure in the field of blue and white ceramics. His robust and imposing style in that medium is highly regarded and has come to be known as Kondo sometsuke. An example of this is his masterpiece, the world's largest plate, decorated with a painting of plum blossoms (ume). His style became the creative standard for his children. His oldest son, Kondo Yutaka (1932–83) pursued his own artistic style during the period that avant-garde pottery was flourishing in Japan.
Kondo's robust and imposing style has come to be known as Kondo sometsuke
He discovered his own way of expressing the tranquil spiritual world, drawing abstract patterns that diverged from the style of Yuzo. Yuzo's second son Kondo Hiroshi (1936–2012) established his own distinctively subtle and elegant style to expand the beauty of sometsuke into the "functional" realm while striving to carry on the Kondo sometsuke that Yuzo had perfected.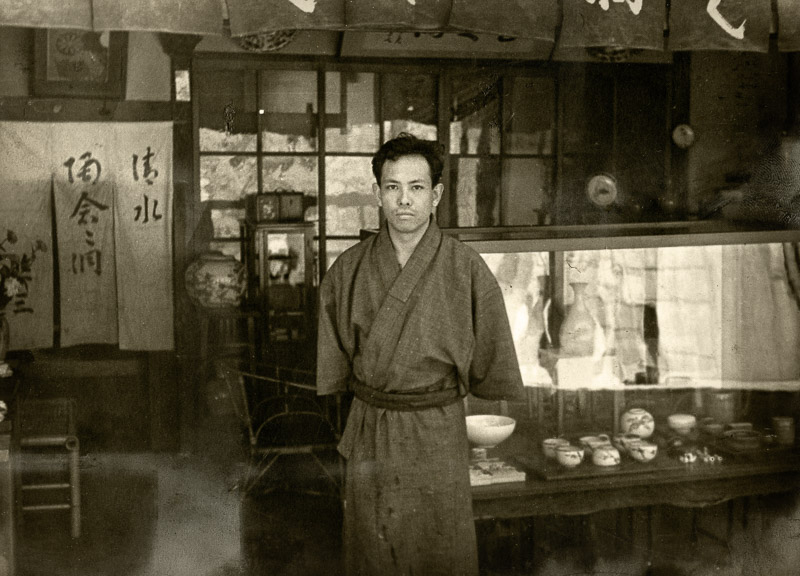 Yuzo's grandson, Kondo Takahiro (1958–), has devoted himself to exploring a new world of formative art not only in Japan but also internationally, with his modern aesthetic and originality, particularly with his unique silver mist over-glaze symbolizing different states of water.
Monk-Warrior—Kondo Shoshin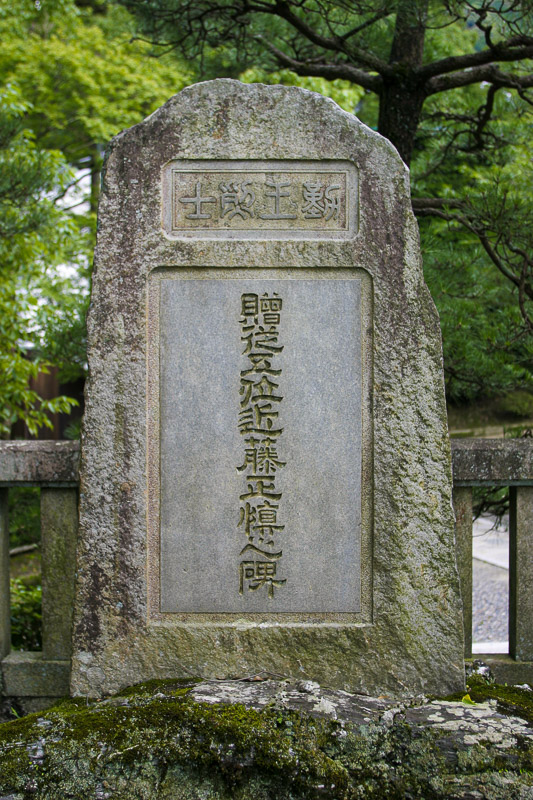 1816–58
Finally, Kondo Shoshin (1816–58), grandfather of Kondo Yuzo, was known as a monk-warrior. He served Gessho, a priest of the Kiyomizu Temple who was loyal to the Emperor in the last turbulent days of the Tokugawa regime. After being captured and arrested by the Tokugawa government for the crime of assisting Gessho and Saigo Takamori, Shoshin killed himself by biting off his tongue in prison to prove his unwavering loyalty. This tenacious and courageous spirit originating in Shoshin has been inherited by the Kondo family as yet another legacy.
Born in Kyoto, 1932 Kyoto as the eldest son of Yuzo.
Graduating from the current Kyoto City University of Arts, he studied under Tomimoto Kenkichi and Kondo Yuzo.
He served as a Professor at the Kyoto City University of the Arts. He was awarded the Shinshokai Exhibition Tomimoto prize, and won prizes from the Japan Ceramic Society and Japan Kogei Association.
He travelled widely, and took part in teaching programmes at
Indiana State University (1962) USA, in New Zealand, was invited by Elizabeth II Art Academy (1979) to provide Ceramic Art Guidance. He also participated in the New Guinea Open Art Survey (1969), Afghanistan Traditional Crafts Survey (1977), and also researched Korean Craft in the late 1970s.
He passed away on March 17, 1983.
Born in Kyoto, 1932 as the second son of Yuzo.
He was awarded the Kyoto Shimbun prize and the Tomimoto prize at the Shinshokai Exhibition in Kyoto, and the Kyoto Shimbun Grand Prize in the field of arts and sciences.
He participated in numerous exhibitions both in Japan and abroad.
His exhibitions include "Twentieth Century Japanese Blue & White: Three Generations of Ceramic Achievement by the Kondo Family" at the Fitzwilliam Museum (Cambridge, UK, 1993), "Japanese Modern Blue & White Pottery: Yuzo, Hiroshi, Takahiro" (The Asahi Shimbun Company, Japan), and "Chinese Blue & White and Japanese Kondo Sometsuke" at The Palace Museum in the Forbidden City (Beijing, China, 2000). His works are represented in the public collections of The British Museum,
The Museum of Kyoto, Kyoto Municipal Museum of Art, and The Ministry of Foreign Affairs of Japan.
He passed away on May 31, 2012.
Kondo Takahiro's online catalogue of works http://www.kondo-kyoto.com/
Born in Kyoto, 1958 as the eldest son of Hiroshi.
Having started his artistic career relatively late when he was in his twenties, he was appointed as an overseas artist for the Agency for Cultural Affairs in 2002 and graduated from Edinburgh College of Art with a Master's Degree in Design in 2003, also winning the Inglis Allen Masters of Design Award at the same time. Earlier recognition includes receiving the Kyoto City Emerging Artist Award in 1994.
His works are represented in the public collections of The Metropolitan Museum of Art (NY, USA), The National Museums of Scotland (Edinburgh, UK), Guimet Museum (Paris, France) and many others.